CRM Business Strategy
CRM strategy should be aligned to the organisation's mission and purpose in order to harness the power of CRM software and bring about a sustained achievement of business objectives and profitable customer relationships. CRM strategies vary, however, the most successful strategies have several things in common.
Clear alignment between the organisation's purpose and the CRM strategy; a strong strategy is a direct reflection of the company's purpose and supports the company vision in direct and easy to understand terms.

CRM strategies must be customer focused; they should articulate the positioning, evolvement and objectives of the customer relationship.

CRM strategies must have senior executive sponsorship and complete buy in from across the organisation. Both staff and management take their queues from the executive team so it is imperative that the executives are visible, vocal and active in their sponsorship of the CRM strategy.

CRM strategies, just like other business strategies, are iterative processes; as the the organization advances so to will the CRM strategy.
CRM strategies are often realized from the achievement of specific CRM objectives. To be successful, it's imperative that objectives are thorough, measurable and directly attributed to supporting the overall strategy. Several common CRM objectives include the following:
Shared customer knowledge. Prospects, customers and business partners call on multiple resources in varying lines of business and through multiple communication channels. It's essential that any and all resources called upon share the same information in order to speak intelligently and with a common voice. Shared customer data ensures that each customer interaction is handled with the same degree of care while leveraging the same information across all departments, geographies and channels.

360 degree consolidated customer view. The achievement of a single, enterprise-wide view of the customer relationship delivers one real-time version of all customer information, eliminates duplicate data entry, reduces systems integration complexity and empowers staff with up to date knowledge and actionable customer insight.

Repeatable processes. The adoption of CRM automation software facilitates consistent processes, process improvements and best practices among all staff who use the software to become more efficient in their daily roles.
If developing successful strategies and objectives were either easy or routine, the CRM implementation failure rate would not be deplorably high (over 50% according to research firm Gartner). Here's a few suggestions to provoke your advanced planning.
Remember that CRM is not a project. Unlike with most projects, with CRM there is no end. CRM is a continuous journey and those organisations that are most successful repeatedly assess, learn and adjust and then repeat the process again.

Don't think of beginning a business software selection or implementation project before you've acquired senior executive sponsorship. Missing, inactive or inadequate executive sponsorship correlates to CRM failure.

Make sure you take the time to identify, reengineer and plan your business processes before you commit to a CRM strategy or begin looking for CRM software. Failure to thoroughly understand your business process framework, including the integration of processes with other departments, divisions or locations, may derail a thoughtful strategy or result in a poor business software selection decision.

CRM implementations are always challenged by user resistance. To reduce this known risk, implement a broad representative team to ensure that all departments, divisions and/or geographic locations are fully represented.

When evaluating CRM systems, specify the decision making criteria based upon your most strategic business objectives and in advance of reviewing software demonstrations. It's generally a big mistake to modify your decision making criteria based upon software vendor meetings and things you didn't know existed before the demonstrations.

Don't be tempted to bypass the Request For Proposal (RFP) document and response. The effort of gathering, documenting, prioritizing and comparing your most important business requirements to each commercial CRM software system will heavily improve your implementation project. There is a clear negative correlation between companies that do not perform a detailed and weighted RFP and companies that incur CRM failures.

When you do get to the business software demonstrations, do not permit the generic software shows and instead demand that vendors demonstrate the features and functions that are most important to your business. It is extremely advisable to use structured demonstration scripts so that each vendor matches their business software with your most prioritized objectives and so the vendor solutions can be fairly compared is a side by side manner. Also be certain that your demonstration requirements are detailed, measurable and scored.

Refrain from purchasing multiple vendor software systems if at all possible. Dealing with multiple vendor software systems, and more so with their different contracts, support plans, graphical user interfaces, release schedules, invoices and technical support groups never works well. Also, the time and cost to integrate the systems introduces significant risk and a dramatic increase in the total cost of ownership (TCO). Be wary of presumed integrated software products; the actual depth and quality of system integration seldom matches the marketing brochure.
Be aware that CRM strategy and CRM software are neither a panacea nor pitfall on their own. However, with advanced planning and thoughtful implementation they are an extraordinarily valuable management framework and productivity automation aid capable of long-term advancements and direct contribution to the organisation's mission.

Strategy Precedes Software

Implementing CRM software without a well thought through CRM business strategy is like putting a super-charged turbo engine in a car with no steering wheel.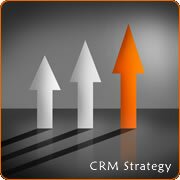 Web Site Links